This past Friday, July 11, Mr. Marathon and I decided to run the Inaugural Martinsville Mustangs 5K. The Martinsville Mustangs are the local baseball team, and this 5K partnered with them to put on this great event. The run started around the baseball field, then went around a part of Martinsville that neither of us have ever run around before. There hasn't been a race around this area, and it was around my old high school, which I thought was really cool! Then, it ended back on the baseball field, crossing home plate. It was a lot of fun because after the run, awards were given on the field, and then all the runners got tickets to the Mustangs' double header game that evening. The atmosphere of this whole event was just super fun. We always love our small-town races, because they are the friendliest, and this was no exception!
Oh, and of course Mr. Marathon did awesome. He finished first overall, with a new PR of 18:47!!!!! He managed to do that in the 6:00 PM heat in July! Crazy. Oh, and I got a medal too! Second place in my age group! :) This race was featured in our local paper, the Martinsville Bulletin.
Check out the article
! My favorite part of the article is a quote by my eloquent husband:
"To be honest, I don't consider myself the winner because everyone is doing the same course, in the same humidity, with the same sun, and that makes everyone a winner."
Anyway, we have a few down weeks until the Helgramite Hustle Mud Run!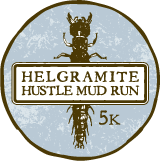 August 9th!